Contact Information of the Marina for reservations and questions: Channel 14, and 781-749-0076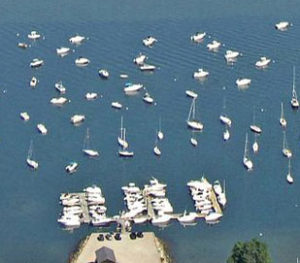 Hingham Harbor Marina ("HHM") is a deep-water facility nestled at the head of Hingham's Inner Harbor offering dockage for seasonal and transient recreational boaters. This 44-slip marina has water and electrical hook ups and offers an array of convenience products and services for both sailors and power boaters. The marina is well laid out and an extension of a large wharf that provides more than ample parking for boaters and guests. Loading and unloading gear is especially convenient given the layout of the site. The marina is sheltered from the north by a series of small islands and from the east by the World's End peninsula, a very desirable conservation park.
 HHM is simple to get to by land as we are located directly on Route 3A, the main artery serving Boston's South Shore communities. We are just 100 yards from the 3A rotary in Hingham that leads passersby to the adjacent communities of Cohasset and Hull.
 Access from the water is straightforward. After entering the head of Boston Harbor, one navigates south through the Hull Gut, past the Hingham Yacht Club and between Sarah and Langley Islands following the channel into Hingham's Inner Harbor. HHM is the first commercial marina one encounters as you enter the Inner Harbor. Our GPS coordinates are N 42.246219, W 70.882675 and we monitor channel 14.
 HHM caters to the recreational boater. Its location provides a convenient refuge for long distance cruisers as well as an exciting destination for day boaters. Hingham Harbor is the easternmost protected port on the south shore of Boston Harbor. The marina is less than [five] miles from the head of Boston Harbor and so serves as a convenient stopover point for those navigating through Cape Cod Bay.
 The Town of Hingham is a quaint, affluent suburb of Boston established in 1635 as a colonial fishing village. HHM is at the doorstep of Historic Hingham placing you footsteps away from excellent shopping and dining. Within a short walk are a number of fine restaurants and pubs including Toscas, Tosca Café, Stars, The Snug and the Square Café. Strolling down North Street and Lower Main one encounters a number of fine shops, art galleries and curio shops. Gourmet food markets and convenience stores are footsteps away from the marina as well.
 There are many interesting boating venues to explore and enjoy in the immediate vicinity of HHM including:
The Back River Estuary – separates Hingham and Weymouth and is a prime spawning ground for herring. A great spot for peaceful anchorage, swimming, kayaking and fishing.

World's End Conservation Area and Mooring field – directly to the east of HHM, this is a very popular spot to rafting up and enjoy a summer's day well away from boating traffic. HHM has moorings at World's End available for the use of our slip holders and guests.

Boston Harbor Islands – the harbor is strewn with islands, many of which offer the opportunity to go ashore for camping outings, shoreline fishing or to tour historically significant sites. Especially close by and of great interest is Georges Island located just outside the Hull Gut where one can dock and enjoy guided tours of Fort Warren, a key outpost used to protect the entrance to Boston Harbor during the Civil War period.
HHM is also positioned well to facilitate deeper exploration of the greater Boston area. Excursions by boat to Boston's Inner Harbor and the Charles River Basin are quick trips of about 10 miles through protected waters. Lastly, land-based passage into Boston is convenient as the recently re-opened Old Colony train line passes very close to the marina and conveys passengers to Central Boston in less than 30 minutes.